Little Miracles
by Tricia Spencer on 02/27/12
Miracles surely do seem to come in all sizes, yet sometimes they may be so small that we fail to recognize them. I've come to believe that opening ourselves to an awareness of the littlest miracles not only enriches our lives but paves the way to bigger miracles.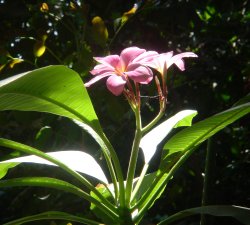 For example, I used to have a beautiful white Hemmingway cat named Dancer. After she passed away several years ago, I bought a plant in her honor. It was supposed to flower annually with tropical pink flowers, but though the plant grew rich with leaves every year, it never bloomed. That changed one special day in August of 2007. My husband and I had spent the day away to celebrate our 25th wedding anniversary. When we returned home that night, there they were - three of the most beautiful flowers you have ever seen stretching from their nest of deep green leaves. Their beauty and their timing brought tears to my eyes. After years of refusing to bloom, my "Dancer" plant chose our Silver Anniversary to unfurl in magnificent style. It was amazing.

Now as I reflect, I realize there have been many little miracles in my life. The key, I imagine, is to embrace them and to allow their existence to fill us with joy. I do believe in miracles, big and small, and perhaps sharing our miracles with others is a little miracle all its own.

To this day, my "Dancer" plant has never again bloomed. Maybe on our 50th...